Drapery and Blind Event
Now's the time to take advantage of our window coverings event. With thousands of brand name fabrics to select from SAVE 20% on all fabrics with your custom drapery order. Plus 30% on all Hunter Douglas Blinds.
Many people ask us questions such as "How can I make my space more beautiful?" Or "What is an easy way to transform my space?"
And our answer is simple, window treatments!
How to brighten up your den:
For this elegant space, we decided to use contrasting neutrals (black and white) and hot pink drapes to add a huge pop of colour. The pink fabric not only ties together other elements in the room but its sheen appearance adds a luxurious feel to the space. By hanging the drapes closer to the ceiling, it makes the room appear much larger. We chose brass curtain rods because they are elegant and chic and compliment the brass shelving. Lastly to add a bit of interest and texture, we chose a neutral animal print rug.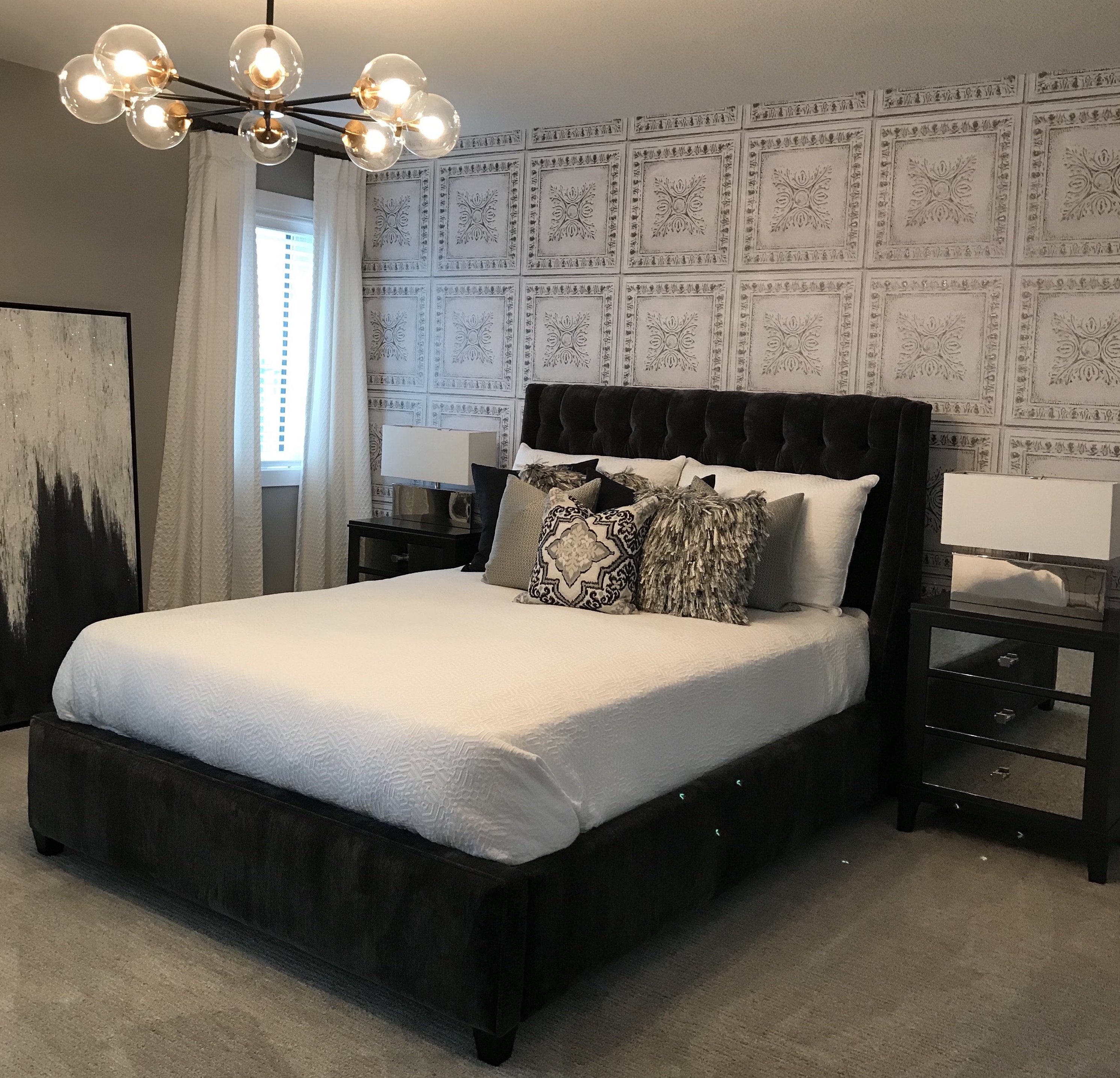 How to make your Master bedroom your personal sanctuary:
Sometimes you're left with a room that either has very few windows or the windows are quite small. But by adding drapery and window treatments you can totally change the appearance of the space. Because we chose a refined pattern for the accent well, we decided to go more minimal with the drapery so that it did not clash. Instead we went with a textured translucent drape that mimicked the texture and colour of the bedding. For the hardware we chose matte black rods that matched the light fixture in the room. Black adds sophistication and drama by pairing it with lighter colours. In doing this, it prevents the room from looking too bold.
How to master those high ceilings:
The problem with high ceilings is that sometimes it leaves the room feeling empty with a lot of unused space. In this family room we mounted the drapery closer to the ceiling to bring the eye up in the room and to fill in the space. We chose to add a bold cat eye pattern for the drapery to add interest as more subtle patterns were used elsewhere. By using a neutral colour scheme for your drapery, it allows you to easily change up colours in your space with toss cushions and throws. High ceilings are a beautiful touch to any home and can be an essential part of your design when accented properly.
Make your life easier with Hunter Douglas's power view blinds.
"Imagine a world where your window treatments adjust themselves automatically, creating the perfect room ambiance morning, noon and night. That's the beauty of PowerView® Motorization—recipient of the 2018 Red Dot Design Award, the most coveted and prestigious designation in the world of design."
Your life has just become easier with a touch of your fingertips. With Hunter Douglas's PowerView Motorization, you can liftand lower your blinds from your smartphone anywhere in the world. This technology allows you to individually schedule your blinds to adjust at different times of the day as well as according to brightness.
These motorized blinds are perfect for any home as they ensure a safe environment for homes with young children as well as pets and prevent your home from overheating or sun damaged furniture.
If you feel like your space is missing something and you can't quite put your finger on it, window treatments might just be the answer for you! We would love to help you out!
Contact us today for a free consultation!