Summer is here, and with it comes hot temperatures that make it hard to get a good night's sleep.
But fear not! Finding the best bed sheet material for summer can make all the difference. It can keep you cool and comfortable during those warm summer nights.
In this blog post, we'll explore the coolest types of sheets to buy for summer and why they're worth the investment.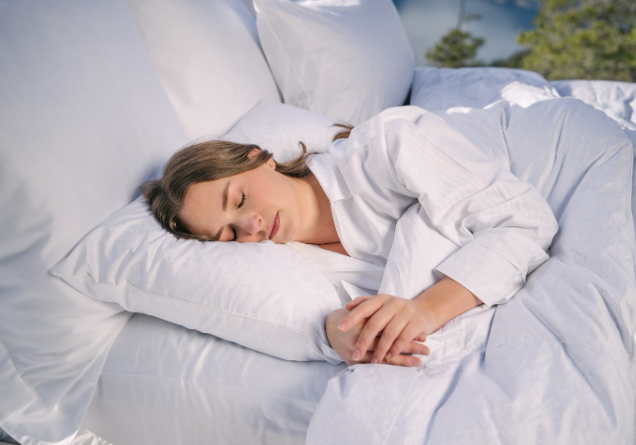 The Best Material for Sheets: What Should You Look for to Stay Cool During Summer?
When choosing the sheeting that will keep you cool and comfortable during summer, there are a few things to consider.
Look for:
Breathability - Choosing natural fibres such as cotton, linen, silks and model fabrics are all breathable allowing comfort and cooling when sleeping.
Top Quality - It's not all about thread count when purchasing sheeting. Look for long stable, yarn-dyed fabrics that are European woven.. These fabrics will ensure not only comfort and smoothness but also longevity and durability.
What is the Coolest Sheet for Summer?
Choosing the best bedding sheet material for summer can make all the difference in getting a good night's sleep during the hot summer months.
The best sheets for hot weather are:
Cotton
Cotton is a popular choice for summer bedding due to its natural breathability.
Look for Giza cotton sheets with a lower thread count, as a higher thread count has a denser weave and may feel warmer. Keep in mind percale cotton will feel cooler than a sateen weave.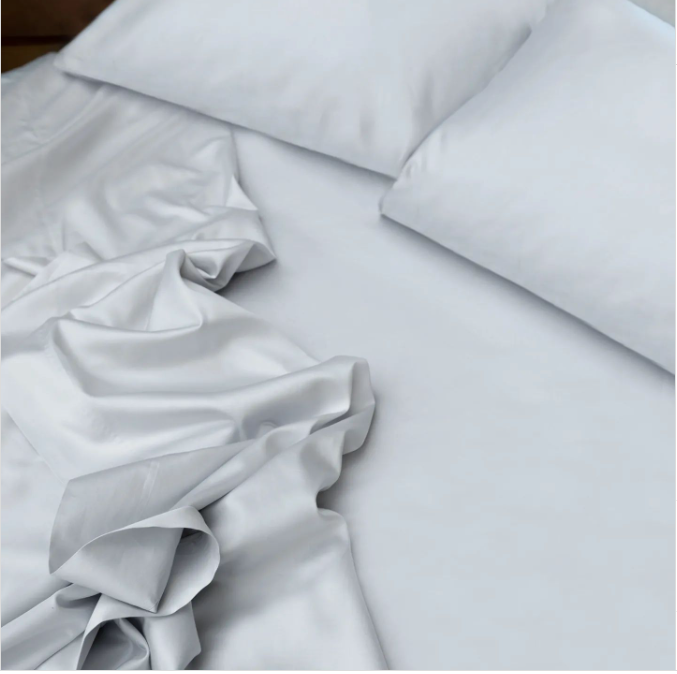 Linen
Linen is a breathable and lightweight fabric that is known for its cool comfort and breathability. Its fibres come from the flax plant and is highly absorbent and strong. Because of these properties, it is an ideal material for keeping you cool and comfortable during warm weather.
Additionally, linen has moisture-wicking properties, which help your body from feeling sticky or uncomfortable.
You will sleep better with its temperature-regulating qualities and enjoy high-quality bedding that can last years if cared for properly.
Lyocell
Lyocell is a new type of natural fibre made from Beechwood or Eucalyptus. It boasts a silky cool texture with natural lustre and breathability. It is often referred to as a model fabric. This luxurious fabric is one of the coolest sheets out there.
Are Silk Sheets Good for Summer?
When it comes to summer bedding, silk sheets might not be the first thing that comes to mind. However, you may be surprised that silk can have some cooling benefits.
Silk is a natural protein fibre that is super absorbent, breathable and lightweight, keeping you cool during the night. This combination of features makes it one of the best sheets for hot weather.
Another benefit of silk sheets is their softness and smoothness and is gentle on your skin and hair. Unlike other materials that can feel scratchy or rough against your skin in hot weather conditions, sleeping on silk will feel comfortable and luxurious.
It's important to note that not all silks are created equal when it comes to staying cool during the summer months. Look for mulberry silk, as this type tends to be more breathable than other varieties.
The Coolest Sheet for Summer Available in Edmonton and Online
Bella Casa Design Centre has the best sheets for hot weather made from breathable materials such as cotton, linen, mulberry silk and lyocell to help you stay cool and comfortable for restful summer nights.
Talk with us today and say goodnight to poor sleep!