Want to go for the wow factor? We've got you covered with loads of ideas on how to dress up your table...
Start with your theme. Do you want to go for that casual look or dress it up, or maybe a combination of the two? There is no rule that says that you have to pick one. You might fall in love with that shabby Chic linen table cloth or runner but want to add in your Grandmothers beautiful cut crystal with gold trim. You can easily tie the items you want on your table together by using a common colour theme and repeating some elements. For example, you have that shabby chic table runner with a hint of pastel blue, you can repeat this colour in your napkins or toss a hint of it in your center piece! You can also add some gold cutlery or gold napkin rings to tie in the gold trim on your glassware!
Layer it up! Add a table cloth layered with a table runner and placemats. The rule of thumb is to pick up your colour theme from one of the colours in your printed fabric. Also, don't be afraid to use different textures while still keeping with your colour theme. See in our picture how we used our linen table runner and layered it with some metallic petal placemats, then added some dark linen napkins for a little drama.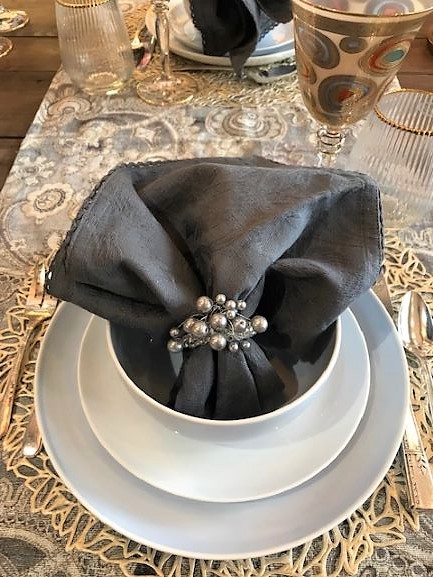 If you have a table that is definitely worth showing, you can pass on adding that table cloth! Sometimes you can cover all the space you need by using two table runners across the table like we chose to do! This adds an interesting look while still showing the beauty of your table.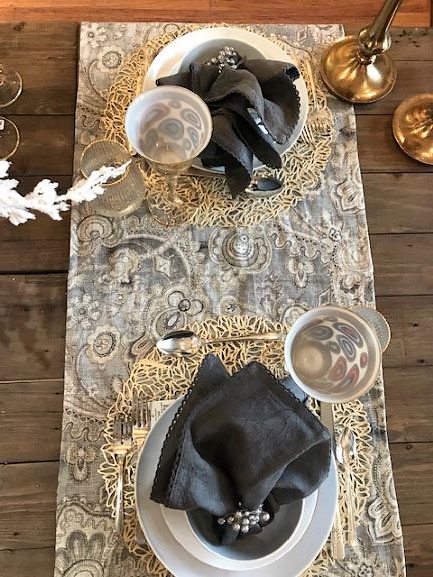 Keep it interesting. You shouldn't feel that you have to use exactly the same colours in all of the dishware, or for that matter even the same glasses or cutlery. We decided to mix it up with both white and blue plates. The blue plates highlight the runner perfectly!! Even the cutlery can create some interest. If you have several sets of silverware, feel free to mix up the different patterns.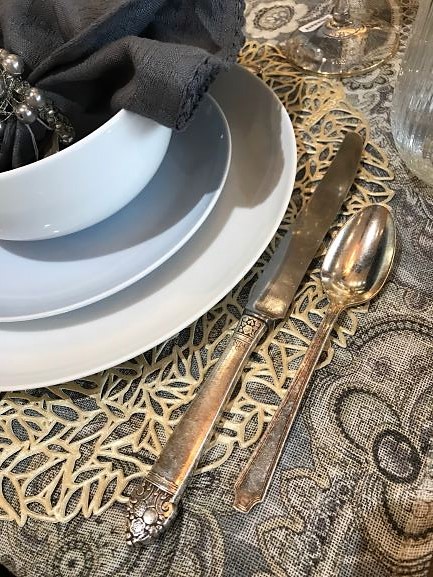 Make your center piece your focal point! Glam it up with a sparkly lit vase or keep it simple with just plain pillar candles. In our center piece we chose to do a soft winter look to keep up with our colour theme! We added some white snowy branches with some simple berry stems in a stunning glass vase. We tossed in some battery-operated lights to really draw attention to it. The other option we did, the pillar candles, is super simple and adds a small pop of colour to the table without being to dramatic.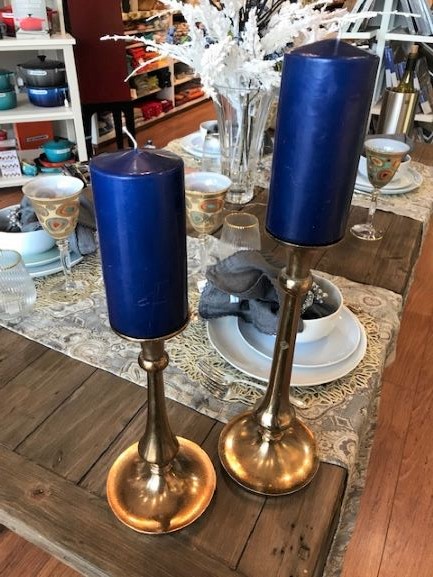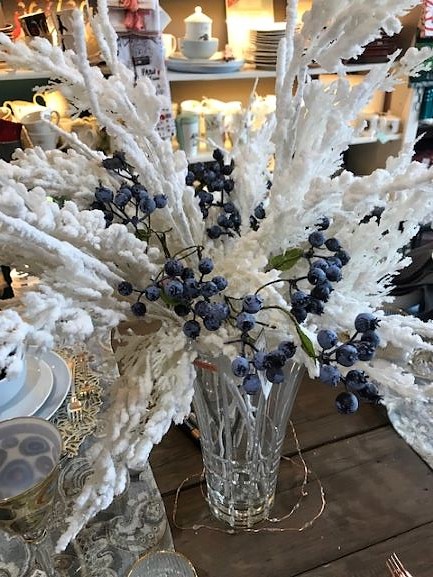 With these tips you won't have any issues impressing your guest at your next dinner party or gathering!